Camping Terms
Here are some definitions for common camping terms:
Overnight Campsite – this is a campsite that is used for short stay.
Seasonal Campsite – this is a campsite that you rent for the season.
Cottage Rental – generally have a kitchen with pots, pans and dishes and washroom in the unit. Please check the campground for specifics.
Cabin Rentals – generally have a basic kitchen with water and beds. It may also come with an outdoor barbecue.
Trailer Rentals – many campgrounds have RV trailers for rent in their campgrounds. This provides a wonderful opportunity to try camping in an RV.
Comfort Station – Comfort Stations are washrooms located throughout campgrounds. A comfort station contains washrooms and shower facilities. The shower facilities normally have a place to change your clothes.
Things to Bring
If you are renting a cottage or cabin, please check with the owners to see what items are included to determine what you need to bring from home. Below please find a useful video on how to pack an RV.
Campfires and Firewood
Campfires
When arriving at the campground, find out if there are any fire bans or restrictions at the park.
How to Safely Build a Campfire
Most campgrounds will have a fire pit available at each site. Please use this designated fire pit.
What you need:
• Tinder (shredded newspaper, cardboard, small sticks)
• Kindling (sticks smaller than 1″ around)
• Larger pieces of wood
• Matches/lighter
Loosely pile a few handfuls of tinder in the center of the fire ring/pit.
Add kindling in one of these methods:

Tepee – Lay the kindling over the tinder like you're building a tent. Light the centre.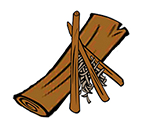 Lean-to – Drive a long piece of kindling into the ground at an angle over the tinder. Lean smaller pieces of kindling against the longer piece.

Log Cabin – Surround your pile of tinder with kindling, stacking pieces in a square formation. Top the "cabin" with the smallest kindling.
Once you have built your fire:
Ignite the tinder with a match or lighter
Add more tinder as the fire grows
Blow lightly at the base of the fire
Add kindling and firewood to keep the fire going
Keep the fire small and under control
Fire Safety
Never leave the fire unattended. Before you go to bed or leave your site, you must put the fire out with a bucket of water.
Always have a bucket of water nearby just case you need to put the fire out.
Make sure children and pets are supervised when near the fire.
Never burn pressurized cans, glass or aluminum cans.
Camping Etiquette
How To Ensure You and Other Campers Have a Great Experience
Here are some simple guidelines to ensure that everyone has a great camping trip
– Do not walk through other campsites, even if it would make it easier to get to washrooms or other park locations.
– Keep your pet on a leash at all times.
– Pick up after your dog. Bring a scoop or plastic bag to pick up and dispose of properly.
– Always fully extinguish your campfire when sleeping or leaving your campsite. Not only is it dangerous and against most park regulations, but the smoke can become overwhelming when a campfire is not maintained properly.
– Be thoughtful when using a radio, observe radio-free zones and take the time to ask if the radio is too loud for your campsite neighbors.
Minimize noise around the campfire late at night. Although everyone loves sitting around the campfire, be courteous to other campers who may be sleeping.
= Don't leave trash at your campsite. The smell attracts wildlife while you sleep or leave your site. Raccoons or other critters, can be very noisy and will make a mess dragging the trash throughout the park.
– Dispose of trash in the park provided garbage bins and recycling containers.
– Wash dishes at your campsite (not at the water tap) and dump any remaining waste in the waste vault or park provided location.
– Keep your fire under control for safety and to comply with park regulations.
– Introduce yourself to your campsite neighbors. Knowing your neighbors helps with campsite security while you are away from your site, and may come in handy if you forgot any items at home like sugar or sunblock.
– Advise the campground if it is your first time camping. They can give you some quick tips to help you during your stay.
– When you are making your reservation, tell the owner how many campers are in your group. This helps ensure that you are put you in a section of the campground that will accommodate the size of your party.
– If you are not familiar with the campground rules and regulations – please ask the owner/front desk to explain them to you. Campground rules and regulations are there so that each guest has an enjoyable stay at the campground.
– Please do not bring your own firewood or go into the woods to gather twigs and fallen trees. Breaking branches damages the trees, and fallen trees must be allowed to decay naturally.
– Please remember that you are a guest in the woods and that you are in the native animal's homes. Respect the animals and do not feed them or approach any wild animals.
– Lastly at the end of your camping vacation, please clean up your campsite. Pick up garbage, make sure the fire pit area is tidy and stacking any left-over firewood. The next guest deserves to have a clean campsite. All campgrounds have places to dispose of your garbage.