There is a $200 cash or debit ONLY refundable damage deposit for the cabins.
We are now taking reservations for the 2023 season!! Call the office during our business hours
9:00am – 9:00pm during the season and Saturday & Sunday from 10am till 1pm throughout the off season (winter) also, to make a reservation or for more information.
Emailing for information is fine but you can ONLY make a reservation by calling the office during business hours. At THIS time NO reservations can be made by email!!
TELEPHONE: (519) 735-3660 TOLL FREE: (866) 258-5554 or Email: info@windsorcampground.ca

**Please note that no bedding is provided.**
Pets are absolutely not allowed in OR around cabins NO exceptions. Cooking in any of the cabins is prohibited.
No tents on cabin sites.
Don't count yourself out of the fun! Windsor Campground is pleased to offer cabin rentals featuring room for up to four adults. Our cabins afford guests a viable, convenient and unique alternative to renting a hotel or motel room. Each of our 4 cabins come with a fire pit and picnic table.
Four cabins (2 Large, 2 Small) are available from May through October for daily or weekly rentals.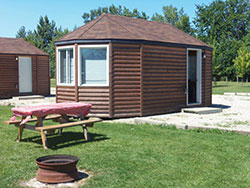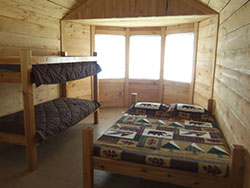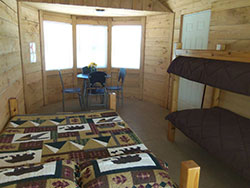 Enjoy all the traditional experiences of a back to nature vacation without ever hammering a tent peg!
Camping Cabins represent the best of both worlds: days spent outdoors and nights spent out of the elements.
All cabins offer easy access to shower, washroom and laundry facilities.